Flooring is an essential part of any kitchen project.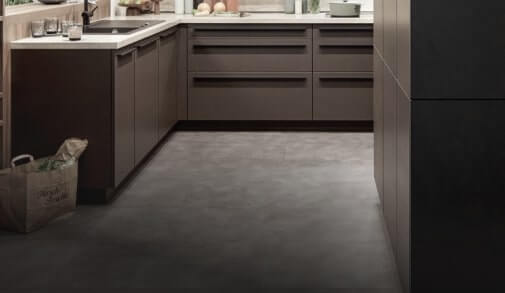 At kitchenSMART we recommend either a tiled floor (this can be ceramic, porcelain or marble) or a specialist floor such as Amtico. Amtico flooring is made from a resin, which is compounded with various high quality plasticizers and mixed with stabilizers. These ingredients are all compressed under high pressure and subjected to high temperatures. This produces a flooring that is extremely durable and very thin. Amtico can look like wood (but unlike wood does not suffer from water damage or grease staining) or they can look like tiles – they even have grout strips for that authentic look (unlike porcelain and ceramic tiles this means your floor is warmer under the foot and safer when wet as Amtico is not as slippy) Another benefit of Amtico is its completely repairable if a tile was to get damaged – just heat it up, pull the tile up and replace. With a 25-year guarantee Amtico has become a very popular choice amongst our customers.
How can we help you?
We love speaking to customers so please get in touch by completing the form here, pop in to see us at the kitchen showroom in Milton Keynes, or call us.
"*" indicates required fields