No kitchen project would be complete without some new ceiling lights.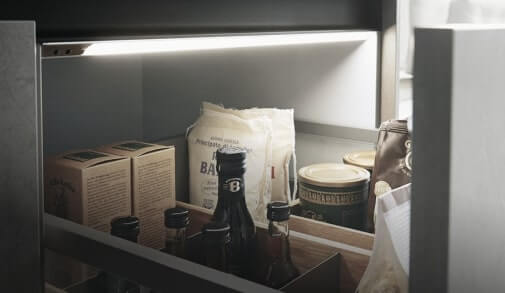 Here we are not talking about the lights within the kitchen furniture – today these are an integral part of each kitchen design and we are happy to discuss the variety of options with you when you visit the showroom or arrange a consultation. Here we just wanted to make you aware that we supply and fit LED ceiling spotlights. LED technology is here, and here to stay.
Using less energy and having the ability to last for many years without failure these are the new way to light up your beautiful new kitchen space. The colour options of lights have also changed, today we recommend a light colour that is described as neutral or cool as this is very close to the colour of light our sun gives off.
Having some new LED ceiling lights installed in your new kitchen projects provides you with a well-lit kitchen area that's almost like turning the sun on in our gloomy British wintertime months.
The lights also provide a nice bright consistent light to work in making it easy to see. For mood, dimmable configurations are available. Once combined with the integrated lighting in your kitchen furniture these clever lights will make a huge difference to your new kitchen.
How can we help you?
We love speaking to customers so please get in touch by completing the form here, pop in to see us at the kitchen showroom in Milton Keynes, or call us.
"*" indicates required fields